Don't Go on 'Just Dates', Go on 'Great Dates' Instead – Chemistry.com
Chemistry.com isn't a plain dating website which you can find plenty on the web. As a matter of fact, Chemistry has a pretty unique feature which will come handy in case you're a picky person looking for a hands down 'perfect' date. The site will live up to your expectations…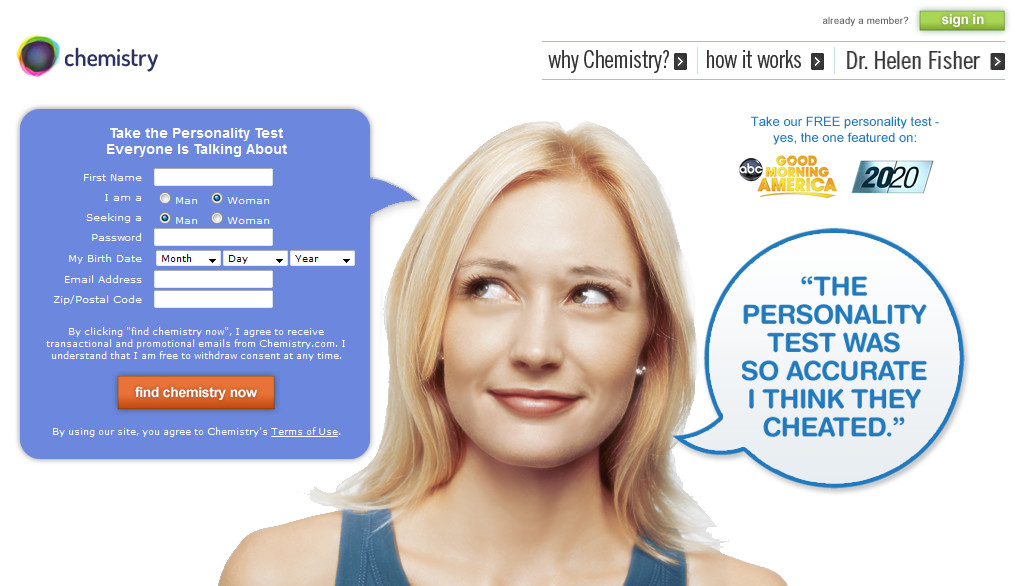 If you're looking for serious relationships with a reliable partner
If you prefer analyze person's info, stats and matching criteria prior to sending an ice-breaker
If you're not the kind of guy ready to meet in a moment's notice
If casual dating isn't your cup of tea, rather a traditional one!
If you're looking for an ideal life-partner to marry or spend the rest of life with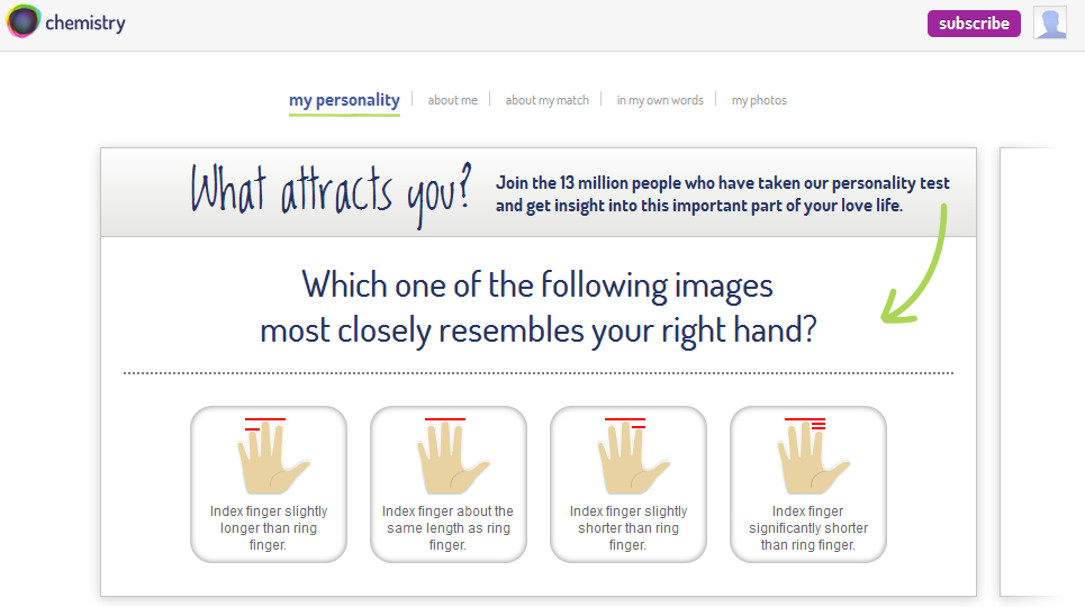 Right, you've just got it correctly – www.chemistry.com is a date finder with an eye for detailed matching based on Math, statistics, big data and thorough analysis. As far as the match making system goes, it revolves around an in-depth personality testing found by Dr. Helen Fisher – world-famous dating and relationship expert and prominent psychologist. This popular free-to-sign-up dating site is built based entirely on her masterplan on true love and peerless match-making.
Taking match-making science and online dating to the next level
Sometimes when you meet a person from a dating site there's this feeling something goes off the plan. Although internet chatting was good and a person seemed nice, a conversation doesn't strike up. There's no spark. Why exactly? Truth is that the two of you don't match. Your personalities are too different to become a couple.
In fact, today that's the number one flaw of all – even biggest – internet dating websites. Chatting online isn't that easy when it comes to an 'offline' rendezvous, where personality differences are one of the factors determining the future of your possible relationship.

With this in mind Chemistry.com adopted Dr. Fisher's approach to match-making where dozens of data pieces are analyzed and used to suggest most matching people to chat with. What's taken into account when searching for best matches? Interests, hobbies, intellectual abilities and other personality features playing a major role when two people are trying to bond.
Powered by science, enjoyed by 13+ million singles in the world
Are you a director, builder, negotiator or explorer? These and many other aspects have been the foundation blocks of successful relationships for millions of ex-singles. By the way, Chemistry's personality matching system has been renowned best-in-class by ABC's Good Morning America which is the most profound testimony of the fact site works.
Apart from things said above, chemistry.com is also a nifty dating platform with all the industry-standard toolkits and features. Messaging options are rich and versatile, registration is free and lots of people are online everyday trying to find a date.
The site also offers a forum with dating tips and other pieces of information regarding such matters as online dating effectiveness, profile features which attract people most, or what are the precautions to take when meeting a person for the first time. This said, Dr. Fisher and site's team did amazing job creating a vibrant community at a perhaps the most intelligent personals matching system so far.
Is the site any good personally for me?
In case you're still in search of a perfect date site and if you're also on the look for a serious relationship rather than a quick fling, Chemistry.com is definitely your top choice. The award-winning dating hub will help you embark on a relationship with a person fitting into your personality profile most. As of today, no other site offers as sophisticated as it's efficient matching algorithm as Chemistry does. Register right now and be able to give it a try for free. Chances are high you'll like the experience a lot!
visit Chemistry