Elitesingles.com — Elite Dating Site for Sophisticated People
If you want to date a girl who is not only good-looking but also intelligent, fun and shares a couple of hobbies of yours, this dating venue offers you such an opportunity. The service focuses on people's interests, hobbies — their area of thought in general. It's designed to find someone of 'your type'.
First Impression and Registration Process
This site is funny, you know. To register, you've got to fill in the form. And the thing with this form is, well, that it's MASSIVE. You answer questions just by clicking the mouse on answers, but there are more and more questions and it seems endless. I didn't bother to count, but I think that there are 100-150 items or at least it seemed like that.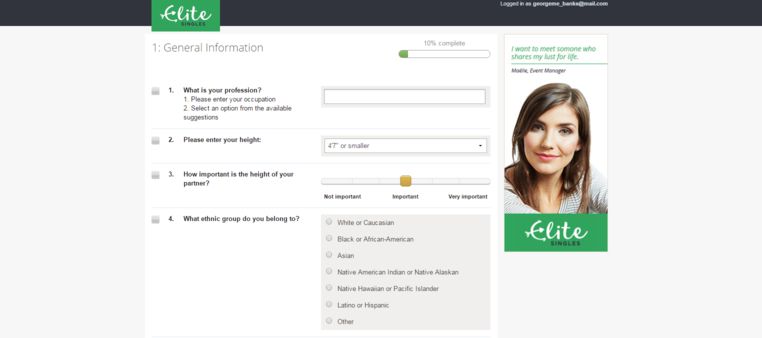 But on the other hand, you've got to realize that the more information you leave on your personality, the better the matches will be. That's why just be honest and patient as you go through that form.
Interface and Usability
The site looks… luxurious. I mean it looks like the site of the Ritz hotel. The word 'elite' is what everyone who's been working on this site had kept in mind as they made logos, layouts, picked up the fonts and colors. I really appreciate this site's matching system, and the site itself, but I can't quite understand what's so 'elite' about it?
As for the usability — it's fine. Everything is just like it should be. The site has neat short tutorials that appear just the moment you need them. It's easy to navigate, or at least, it's much easier to navigate that some of the other sites I've been at.
Looking for a Date
You have a set of basic functions as a free member. You can browse women's profiles, send messages and smiles. Each profile contains loads of info, and the best matches are selected according to the interests you share with your potential dates.
But the thing I can't understand is why the hell you can't see photos as a free member? It kinda motivates you to get out from the service to social networks or Skype.
Premium Membership Benefits and Pricing
As a Premium member, you'll be able to:
browse other members' photos;
send an unlimited amount of messages (I never hit the limit as a free member though);
check out who's been browsing your profile;
get access to the mobile application;
use other minor features.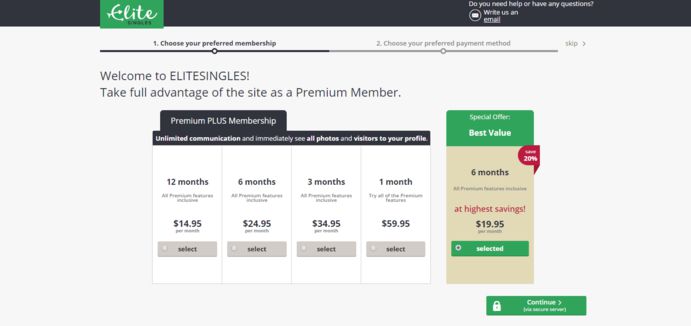 The pricing is as follows:
1 month for $99.95 (luxury, lol!)
3 months for $179.85 which is $59.95 per month (40% off)
6 months for $239.7 or $39.95 per month (60% off)
12 months for $299.4 or $24.95 per month (75% off, how generous!).
Pros and Cons
Pros:
Detailed form. Loads of info about your potential dating partners
The site works and the matchmaking system does really good (seriously, the results are outstanding)
Cons:
Detailed form. Some questions duplicate other questions
You can't see other members' photos if you're a free user (gosh, whose idea was this?!)
Conclusion
I'd recommend using this site. Even with all its drawbacks, it's a good platform to find someone for a long-term relationship. It narrows your search immensely.
visit EliteSingles