Established Men — Royal Dating Platform for True Ladies and Gentlemen
One of the largest dating spots in the Web, establishedmen.com has been created for wealthy men and women who're looking for them. It seems that it was the concept in the beginning, but now anyone can sign up, so Establishedmen is nothing but an ordinary dating site with wannabe fancy name and design (not really).
Naturally, I was expecting to be charged during the registration as a male user. Surprisingly, the site decided not to check my paying capacity, which proves once more that it makes women only think they're going to date rich guys. But theoretically those dudes can be anyone — from a poor student who lives in campus to Donald Trump (most unlikely, though).
Anyways, the registration is super easy, it doesn't even include an e-mail confirmation. Once you're a member, the site offers you to update your pics and profile info and displays a bunch of profiles you might be interested in, according to desired sex and age of your potential partner you've set up during the registration.
Interface and Design
When I saw this site's domain name for the first time, I thought that once I enter it, I'll face some fancy red and black layer and baroque fonts. None of these were there. Just a simple white and blue interface with a modest logo on a gray foil. But the site works fast, and I liked the interface pretty much for its simplicity.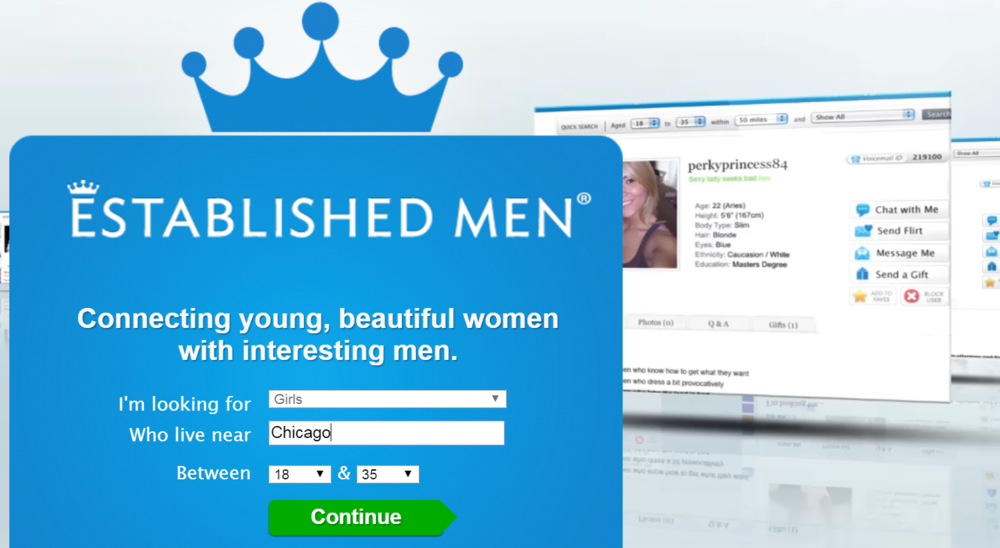 The service offers you the best of your potential partners available at the moment on your dashboard. You can check/uncheck their profiles and send flirts to all of your selected users at once. This was the first thing I did: sent 24 flirts in a row and guess what? I got 14 responses right away! Not bad, huh? 14 beautiful girls within 50 miles from my current location which is not some metropolis, I'm kinda rural, mind that!
Features and Usability
Apart from this 'Mass flirt' thing, as I call it, there's a whole bunch of useful stuff. For example, you can use voice mail to leave a voice message in your profile, to send messages and receive them. This way, other users will not just see your pics, but also hear your voice. Also, you can post your status which will be visible for every user who walks into your profile.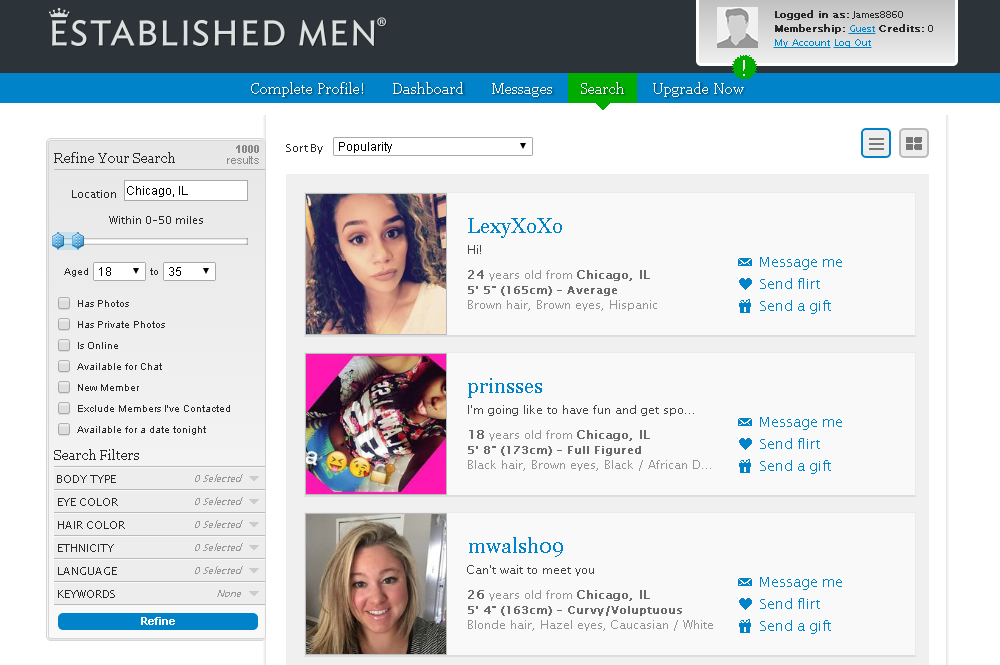 Plus, there are some features usual for dating sites. You can add other members to your friend list and favorites, e-mail them (useful, if the woman you wanna meet suddenly goes offline and besides some gals prefer e-mailing instead of chatting on dating sites). And of course, you can block other members (may come in useful, hehe).
Also, there are a lot of search filters. You can filter your potential partners by body type, eye color and so on.
Money Talks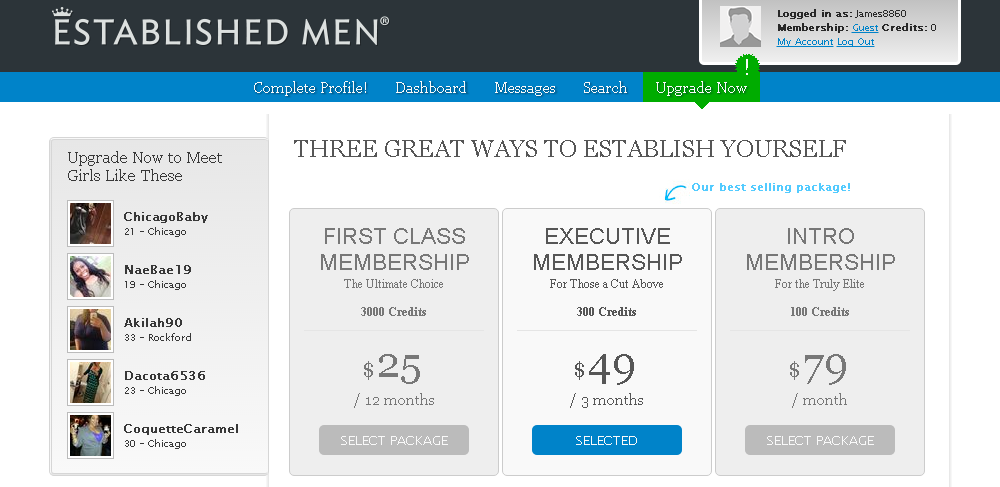 The most impressive thing you get as a paid user is this Dater's search feature that allows you to browse members who're available for dating not far from you on a particular day. Also you can just buy some credits and purchase virtual gifts. No practical use, of course, but female members come here to find men who don't mind flushing some money down the drain.
Pro Et Contra
Okay, this site is worth your attention, if you don't mind spending money on a date that may or may not really work out. If you're not a 50-year-old dude, you're going to be popular here, as most of the guys are pretty old. On the other hand, the site is full of so-called 'sugar babes' who won't even look at you if you don't have a golden credit card. Not all of the girls here are like that, though, so even if your pockets are empty you can rely on your luck even here and find a right woman.
visit Establishedmen