Best Matrimonial Dating Site for Muslim Singles – Muslima.com
Salaam'alaikum! Please read this Muslima.com review to learn about one of the most popular matrimonial sites online. Home to 5mln accounts of Muslim singles, the venue is perhaps the largest scam-free community for Muslim adults in search of marriage. Thousands of men and women chat every day to get to know each other better, flirt, discover common interests and beliefs, talk religion and culture, and then meet in real life.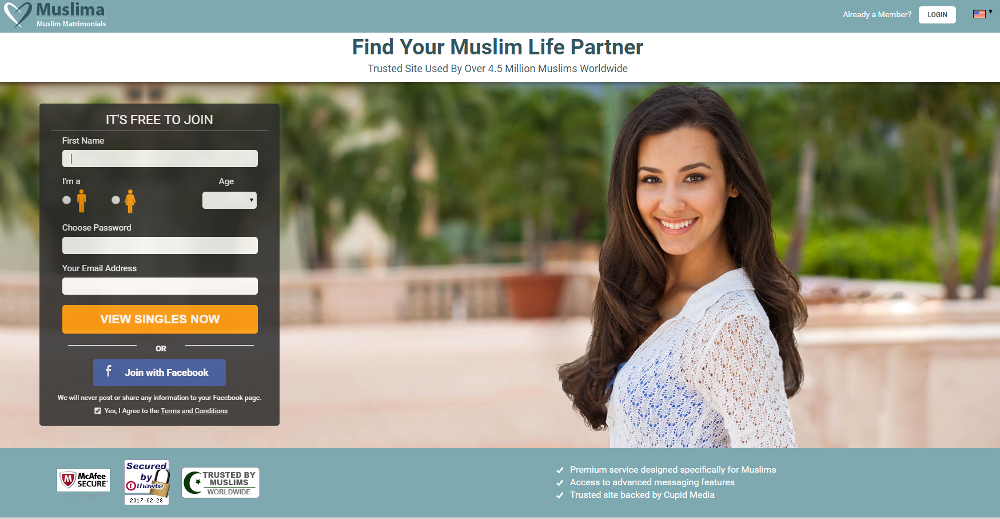 Part of the world-known Cupid Media owning a group of widely used dating platforms, Muslima is responsible for over half a million Muslim matrimonials all over the world. Site rules are quite friendly towards gays and lesbians. You can normally search a casual partner as well as someone to build a family with. Single, divorced, separated, widowed or simply looking for a friend – any Muslim person could find love, intimacy and friendship at this site.
General overview
At Muslima.com you'll see s classic online dating site with simple design patterns, comfortable site navigation, eye-pleasing color palette and readable fonts. Cupid Media group know their ropes when it comes to launching dating venues which are pleasant to use. Account information and personals are filled with information about a user, messaging tools and the search are placed comfortably to be accessible within a second.
Browsing profiles is quite comfortable too. There're a couple of search options available, so that finding a Muslim person who meets your beauty standards is easy as one, two, and three. It's also easy to say whether a member is online of offline at the moment thanks to a corresponding profile icon.
Search options
Muslima dating site boasts a vast array of ways to look up an attractive Muslim single. You can see who's online, who's new, what members are currently chatting, browse video galleries and latest photos, see the list of most popular users at the moment, use standard and advanced search including such parameters as age, location, last profile activity, ethnicity, religion, community, appearance, etc., lists of your friends' favorites, best matches, recent activity towards your profile, and Cupid Tags. Some of the search features are available for all users, but some of the most effective will require you to purchase one of the available Gold or Premium membership subscription plans.

Free membership
Creating Muslima.com login is free and grants access to 80% of Muslima dating features. First and foremost, you can create your account, add personal information, photos and videos, make it visible in the search for other members, use the search, send winks to show you're into a person, as well as receive and read messages from other people liking your profile. To send messages you need to opt-in for one of the membership plans though.
Paid membership
One-month subscription will cost you $29.99. There're also three-month, six-month and twelve-month offers, costing $20.00, $16.6 and $10.00 a month accordingly. As you see, 6-month and 12-month membership packages offer the most reasonable price-to-duration value, letting you save up to 67%. Opting for the Gold subscription will enable you to:
Reach out and text members you like
Use instant messaging system at Muslima.com
Use advanced search with 20+ additional searching parameters
Letting free users whom you like receive your messages and know you're interested
Your profile will rank higher than others
Note there's also Premium membership, which included all the Gold plan features plus:
Your profile is shown on top, higher than even Gold accounts
Can send voice and video messages
Can run personality and psychology evaluation tests for better matchmaking
Get messages send to your inbox in other languages translated into your native language
By default, Premium membership is around $3 costlier than Gold, so see for yourself what level of comfort will suffice for your matrimonial and dating preferences. Note that for your convenience 3-, 6-, 12-month plans are billed in one installment which already includes your discount!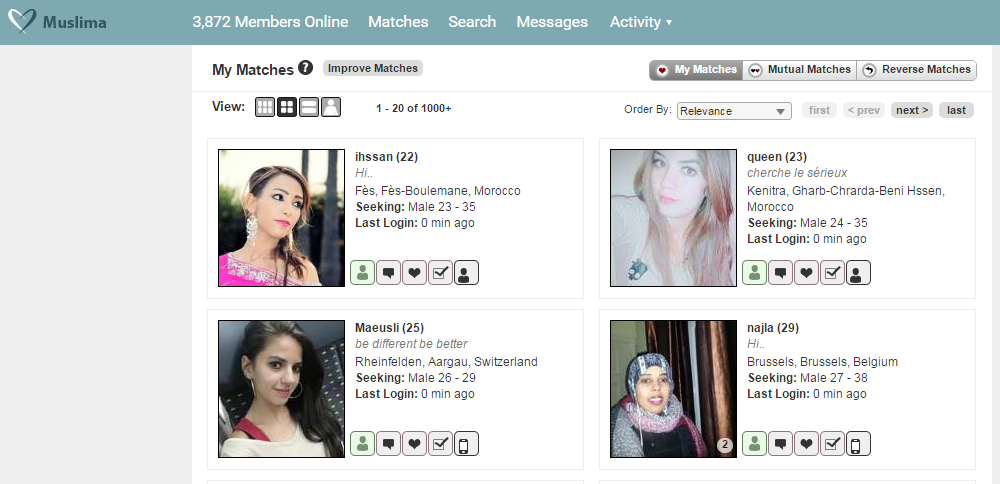 Any membership can be easily cancelled, should you seek to terminate site subscription due to finding a partner, when there's no need to browse profiles of singles and chat any longer.
Muslima.com app
Mobile application for iOS and Android devices by Muslima can be downloaded for free. It holds basically the same functionality as if you've been using a web version. All in all, it's more or less comfortable and informative presenting all the key chatting and profile browsing features when you're on the go or at work.
Conclusion
Muslima.com is the top-rated dating site for Muslims. Website is legit and can be used safely. Various internet security protocols are used to protect your personal data and billing information. Are there're any draw-backs? Matching making system could've been more effective and precise, searching criteria can't be saved as a ready pre-set to be used next time you'll want to find a person with specific criterion you fall into. But those are minor issues which in no way affect the generally positive and uplifting impression cast by Muslima.com.
visit Muslima