From Germany with Love – Parship.com
Originally a German dating site, today it grew into one of the best multi-language sites for singles, helping UK, French and singles from other European countries to find a partner easy. Offering thousands of personals by date-seeking peers in your country, Parship is a sound and affordable alternative to more expensive sites like Badoo or Tinder.
What lies in the heart of this popular dating platform? Based on the relationship research by the University of Hamburg, you'll find parship.com a website heavily relying on science and thoughtful match-making. With plethora of weekly and daily events, profound profile search facilities and 100% legit profiles, you can entrust this site to take care of your dating reveries A to Z.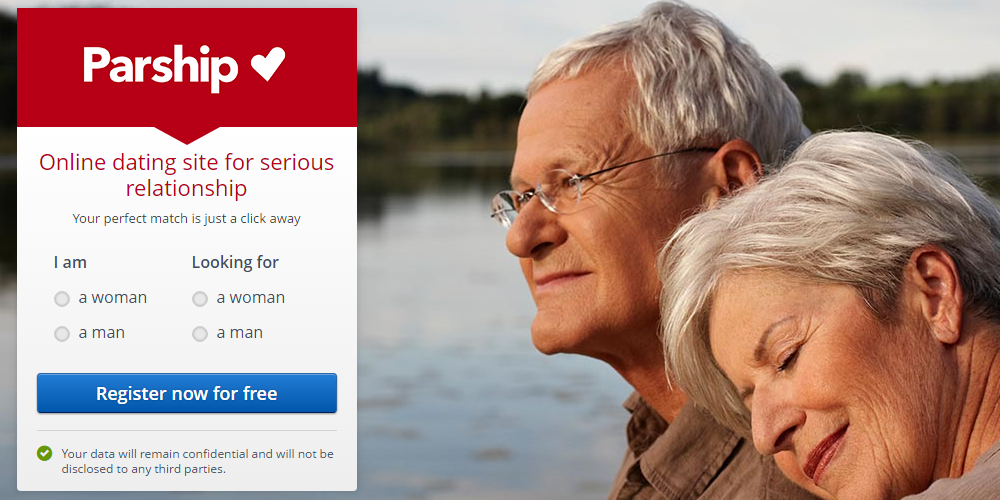 Another great plus in favor of the resource is due attention to user security and data confidentiality. SSL encryption and ID check are those deal-breakers which make the site stand out among those dating sites which don't treat privacy of their members. After all, Parship is built by Germans who definitely are a good judge of safety and security!
All available profiles are 100% authentic and here's why
Chances are high you've come across dating sites, some of them rather renowned, where fake profiles bother users, especially those using site features for free. In order to prove that Parship UK, FR or CZ features legit personals only, each account has to be manually activated by a user who created it, and only then a profile becomes visible to other users browsing the search results.
Additionally, the site was tested by TÜV – German authority responsible for compliance with terms of safety and user privacy online. That being said, once again it's possible--and necessary!--to acknowledge that Parship.com is a dependable and trustworthy dating site respecting your user experience and personal data privacy alike.

What about actual dating experience – is it any good?
In terms of site looks, it's your average dating platform you might've seen lots of times. If the formula works, then there's no need to change anything, right? All the menus, buttons, inputs and dropdowns have been tailored to perfection by years while online dating has been available on the web.
How many male and female users are there? Figures show that 20+ thousand members join the site on a weekly basis, which is a pretty classy number. Male/female ratio is almost fifty-fifty, and site officials are known to keep track of this very carefully, which guarantees that both men and women will be on equal terms in terms of matchmaking.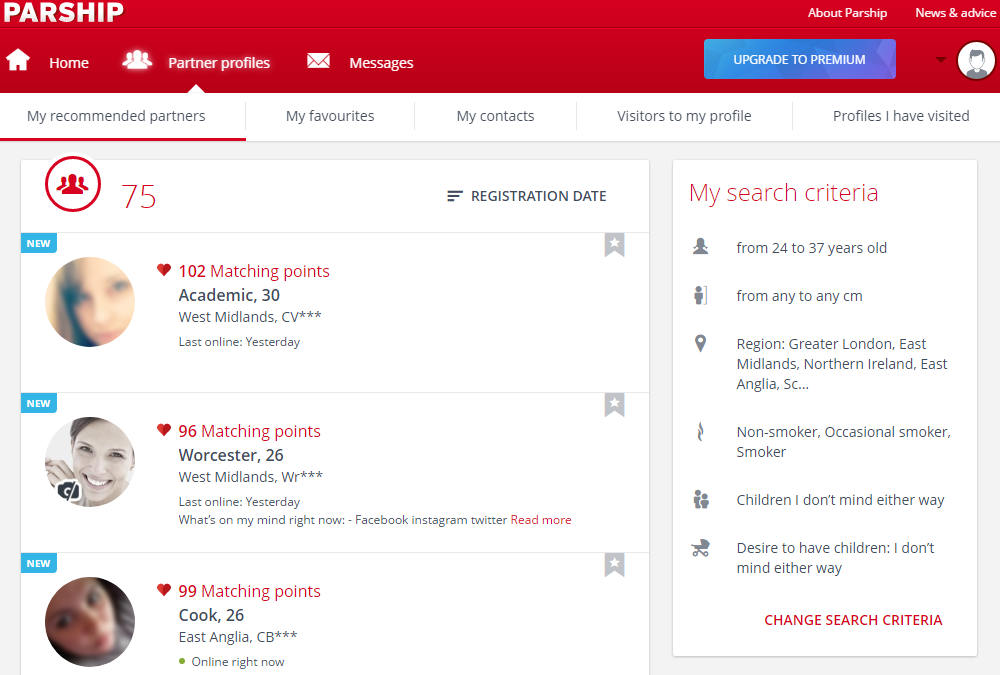 Is age of any interest to you? Most members are aged 25 to 55. Youngsters somehow don't pay much attention to Parship, they'd rather hang out and chat on fancy sites like Tinder, which is a resource dedicated to a more mature, serious auditorium. As a rule, every third couple chatting online meets in real life, and to tell the truth it's very heartwarming. With your inbox full of texting offers and ice-breakers almost every day, getting to know new people and going on dates thanks to Parship.com is a pleasant, enjoyable and satisfying experience altogether.
What do free and paying members get?
Just like at all internet dating sites, there's a free trial membership for people to get a hand in meeting singles online. Functionality at the site will be limited to partner recommendations, personality and compatibility tests, sending and receiving friend requests and photo sharing. Unfortunately, messaging is available for users with a membership, no second option given. Which leads us to the next point in the list.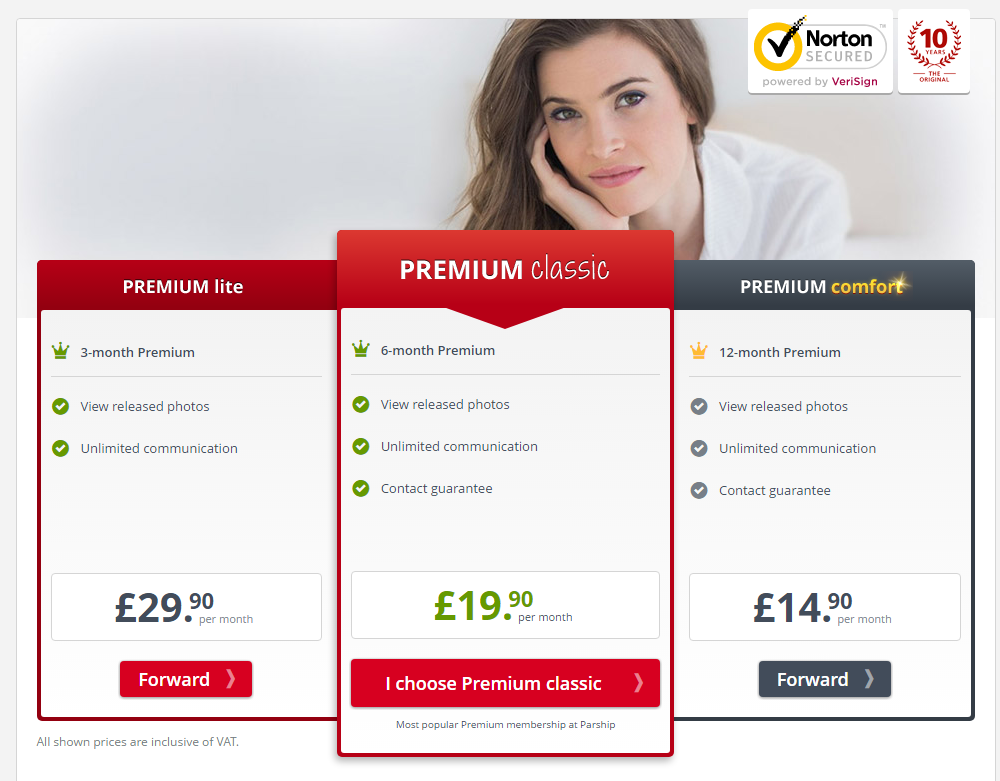 A monthly-based subscription will cost you around $30, which is neither expensive nor cheap. For a dedicated online dating fan, a lengthier subscription plain will be more cost-effective. Opt-in for a 6-month plan or 12-month for a more convenient monthly fee, the choice is yours. What's in return? Oh, all the features, full access to profiles and messaging options, exclusive smileys, promo offers, etc. Having a paid subscription Parship.com really becomes better.
Online dating on the go
In case you didn't know, Parship has a rather cool mobile iOS and Android app. Get it for free to keep track of your account updates, new messages, ice-breakers and sent photos using a smartphone or tablet. Waiting for doctor's appointment, killing time at work, travelling home on your daily commute all your contacts and potential dating partners will fit comfortable in pocket or purse. And in case a wild dating proposition hits your inbox while you're not at home, a notification will pop up and you could agree to or cancel the offer almost instantly.
Drawing up conclusions
This Parship review has only positive things to say about the site. German pedants created a really reliable, fool-proof dating site where thousands of people chat every day. As you can see below, registration is very easy and actually is pretty quick. Just finish the suggested questionnaire and you'll be able to delve into a fascinating world of internet dates within minutes.
In case you're interested, Parship also features an online magazine with dating tips, beauty secrets and relationship advice. Real-life stories of how people found love at the site and what exactly did they do to complete that goal are shared by users as well, give those a try in your free time as well. All in all, need the best German dating sites covering the rest of Europe including Great Britain in particular? Go no further, www.Parship.com is packed with everything you need and much more.
visit Parship